What does Alexander offer Nursery and Primary school children?
Alexander helps young children develop skills for life.  In particular, they learn to understand and manage reactions to stress and conflict better and to increase their emotional resilience. It also gives them an improved impulse control and increased intelligent self-awareness: Alexander develops emotional and physical literacy.
​
"The main concept that underpins Alexander is that the way you think and move, in fact use your body in any fashion, affects your functioning and performance". Sue Holladay, Alexander Teacher and Author of 'Playing with Posture; Positive Child Development using the Alexander Technique'.
Our responses to stimuli define the nature and quality of our lives. These responses are usually unconsciously formed, habitual patterns. Many of these patterns are unhelpful to us resulting in stress, aggression, low self-esteem, ill-health etc. Even if we manage to identify these patterns we are usually unable to significantly change them. It is not always possible to control the stimuli that bombard us throughout our lives. It is possible, however, to learn skills that enable us to have a choice in how we respond to these stimuli. The Alexander work teaches us constructive conscious control. Childhood is the perfect time to learn these skills. School is the perfect place to teach them.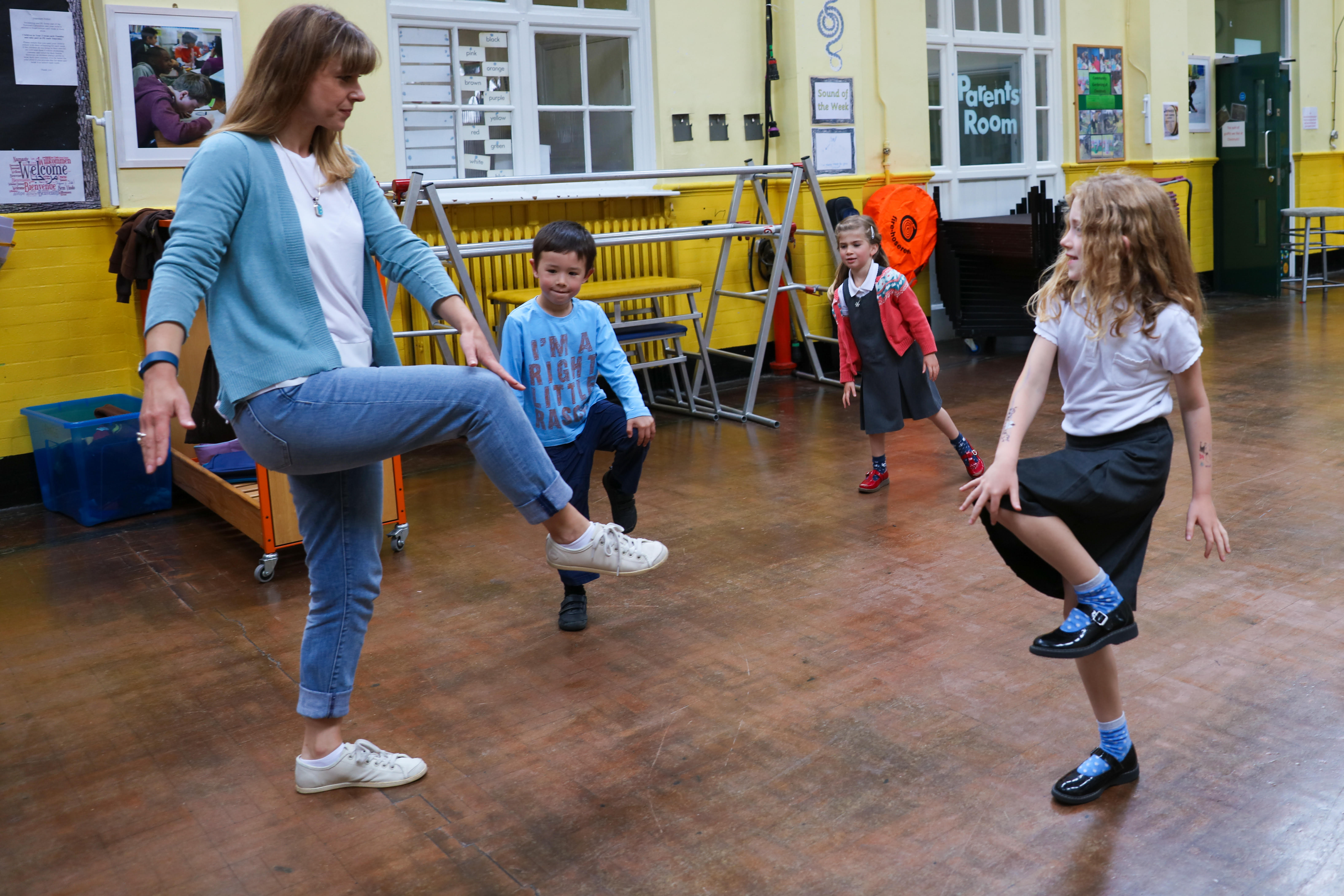 ​
​
Children learn how to;
Sit poised and balanced with less effort which research shows leads to increased oxygen to the brain therefore improves learning.
Write, read, use a computer, play sport and musical instruments etc without excess tension and in a more co-ordinated way.
Focus with more ease thus improving their ability to learn and making the learning process more comfortable
Remain open and curious – understanding that making mistakes is part of learning and not to be feared and being able to control the over-stimulated fear response
Education at its best is a balance of intellectual, physical and emotional development. Alexander work, when integrated into Nursery and Primary school stages of education, facilitates positive child development. It becomes part of the educational environment, a way for children to learn about themselves and the world around them.
'It helps me relax and stop thinking about stressful things that happen during the day' Mila, 10 years old
'It helps me think about my floaty balloon head and runny custard shoulders so that I am comfortable.' Carmen, 7 years old
"The Alexander work is really important as the basis of our curriculum. It gives the children confidence, it makes them think about what they're doing, it helps them to think and to make confident decisions." Liz Steinthal Headmistress of Educare school
How will it work?
Qualified Alexander teachers can work with pupils and teachers in the school in different ways. All our Alexander teachers are STAT qualified and have completed a 3 year training; all have enhanced DBS checks and are insured to work on a one to one basis as well as a in a group.
Pupils
For pupils, there are options for group classes – for example, as part of the PSHE curriculum – and also individual or small group tailored lessons.
Two example group interventions that can be integrated into the school day are the Movement Circle and Quiet Time.
Movement Circle: Alexander teacher leads a series of movements, carefully chosen, ordered and practised with a "soft and tall' body, integrating Alexander work. This takes approx. 20 minutes and is helpful to practise in the morning.
The movements aid:
Learning,
Focus, balance and co-ordination
Health and fitness.
Listening skills and thinking skills
Ability to feel centred and peaceful
Gross and fine motor skills
Physical and emotional balance
Flexibility and strength.
Body mapping
'It helps me think about my body. Movement circle helps me wake up in the morning so I am ready to work.' Daniel, 8 years old
Quiet Time: This is 20 minutes of specially adapted Alexander lying down work, helpful for example after lunch each day. The whole school, including teachers, practices this every day.
This helps everyone to cultivate:
Stillness
Reflection
Relaxation
Self awareness
Focus
Centring
Alexander Technique principles
'Quiet time helps me relax' Oliver, 7 years old
Individual or pair Alexander work: covers a range of activities, depending on the age group. See 'what are the sessions like' section.
Teachers
For teachers, there is a range of inset days available and ongoing workshops and lesson options. We offer training workshops introducing Alexander tools for teachers to use for themselves and with the children they work with. All courses will be practical in nature and range from 2 hours to full day workshops. Individual lessons for teachers are also available.
Please contact us for more information on Inset Days and training for teachers.
School environment and furniture:
An assessment of the school environment can also be made. This would look at what can be done regarding any problems or concerns with furniture and use of resources.
What are the sessions like?     
Alexander sessions include different activities always encouraging integration of the mind and body. For example:
Story telling (to introduce Alexander concepts and to explore anatomy).
Role play
Games
Fun activities that involve gross and fine motor skills e.g. balancing, throwing, catching, drawing etc.
Body Mapping and practical anatomy
Balance and co-ordination
Topics include:
Balance and co-ordination
Seeing and looking
Qualities of attention and focus
Catching with body awareness
Responding not reacting
Emotional literacy
All of these relating back to Alexander principles.
The ideas and principles are integrated into the classroom too. For example, during normal lesson times children are reminded to think about sitting in a 'soft and tall' way and an Alexander teacher can put gentle hands to help children work at their tables and desks.
Where is the Alexander Technique currently taught?
Please see Where Alexander Technique is Taught for a full list.